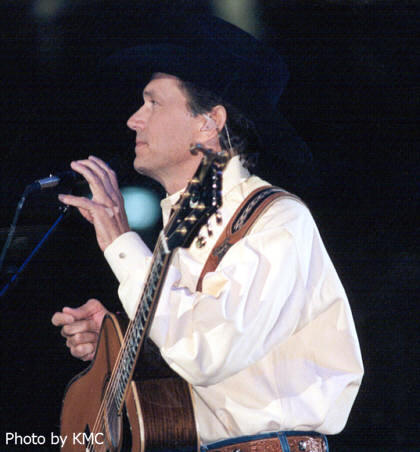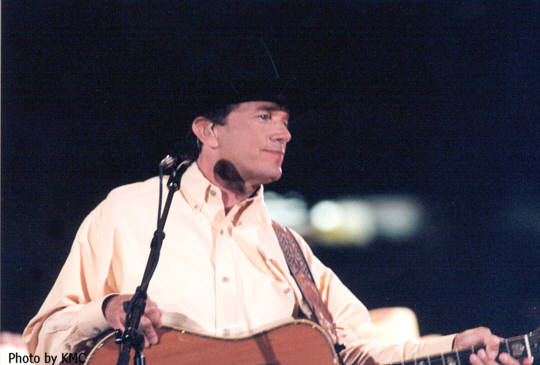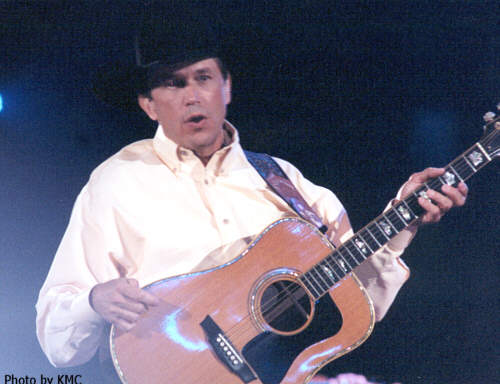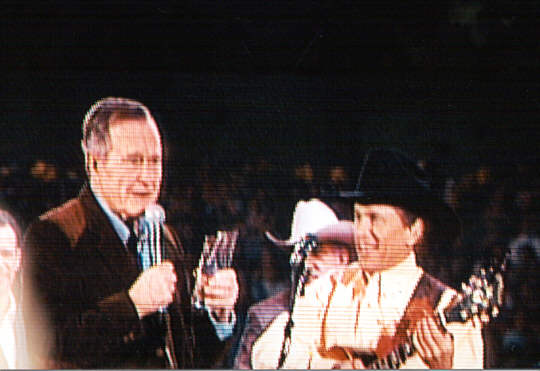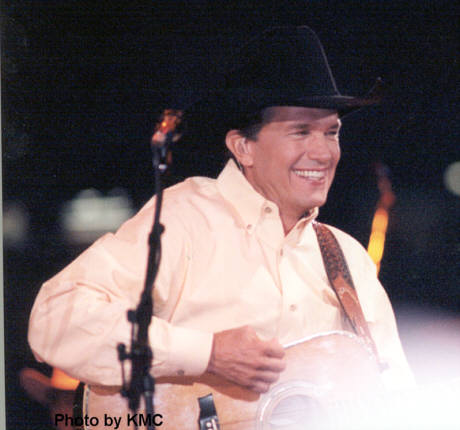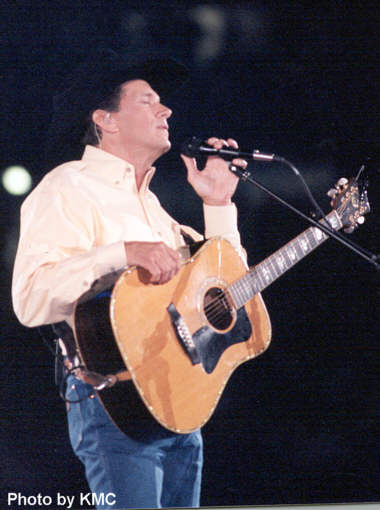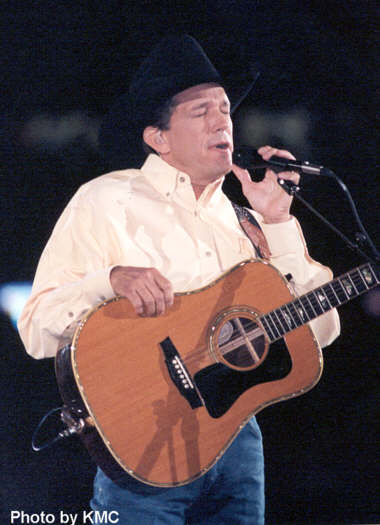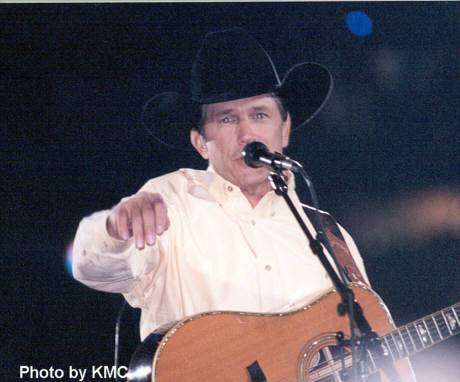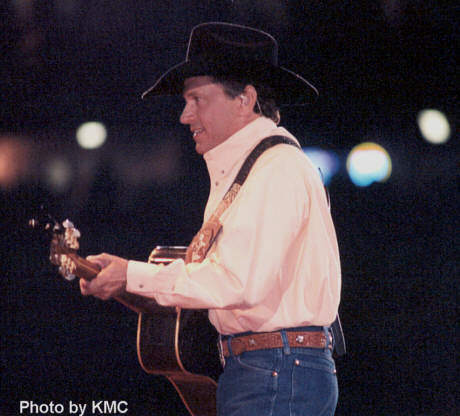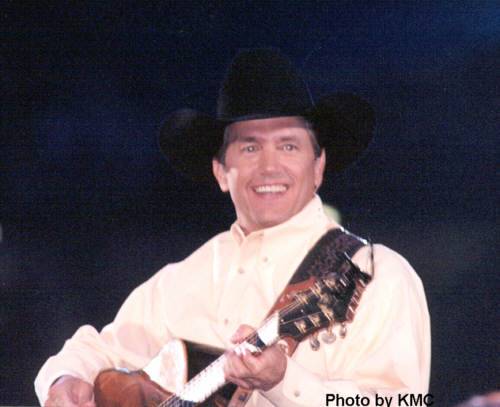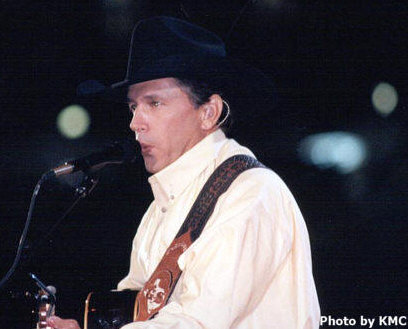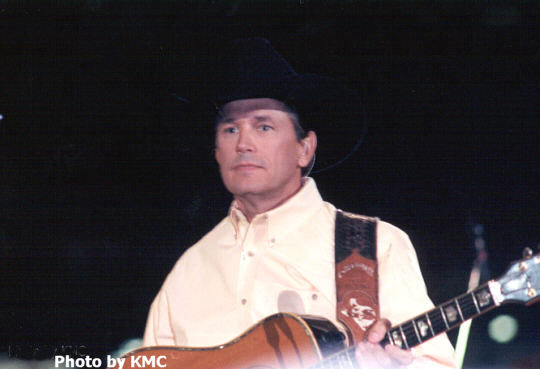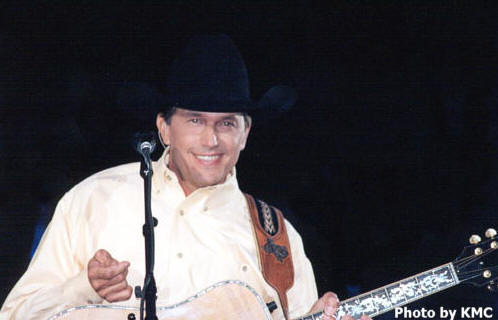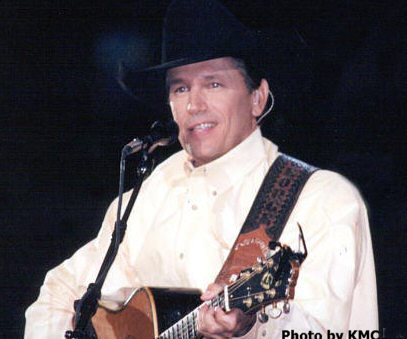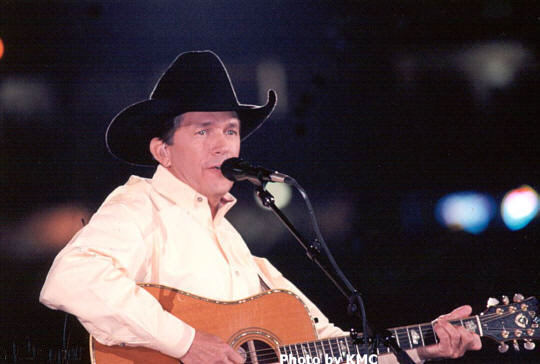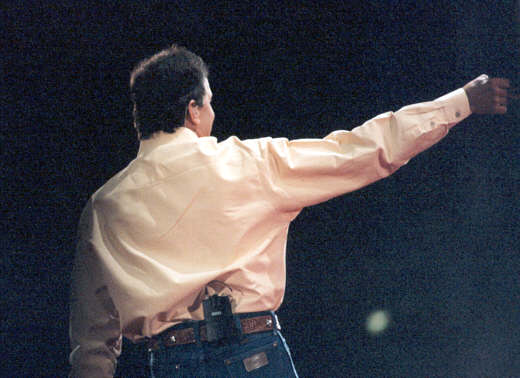 And this is where the Cowboy rides away....

"Whistler is working!"  George said during "I Just Want to Dance With You."


Houston Astrodome Closing

Final Show ~ March 3rd, 2002

When at last we had found our seats in the Houston Astrodome I stood and looked in front of me and my heart skipped a beat at the sight of the wide red carpeted stairs in front of the stage. There were leather chairs set up facing the stage corner to our right. Being in the second row we were no more than 15 to 18 feet from the stage itself. This was to be a special night and awesome concert in more ways than one!  It took me a few more moments of absorbing our situation inbetween saying hello to friends to discover that although there was a security fence around the "in the round" revolving stage there was no security fence directly in front of us - only security guards near those carpeted stairs. We sat there soaking in the atmosphere which was heavy with anticipation. You could feel the excitement in the air from 70,000 people in that wonderful historic old building.  Although I have felt that kind of anticipation  many times before at George's concerts this one was special and you could literally feel the anticipation  and the pulse of the people.

The Presentation of the awards was wonderful, and it was great to see The Gatlin Brothers close up, along with Mac Davis and Charlie Pride. I was thrilled to find out a lot of my Rodeo heroes, especially Don Gay,  were sitting in the section to our right behind the former President. You can read all about the awards at the Houston Rodeo Website. The best thing was watching Mr. Bush hand out the awards, and at one point he said to Naomi Judd who was acting as hostess "Let's get on with it!" It was an executive order and everybody laughed at his enthusiasm -  he wanted to hear George Strait! To end the Presentations all of the above entertainers stood on stage together  along with Mr. Bush and they were facing us!  They sang "God Bless America" and we sang along with them, and as I sung I looked into the eyes of Mr. Bush and watched him smile.  I will never forget how proud I felt at that moment.  I was so very glad to be there.  I don't know who sung livelier - Mr. Bush or Larry Gatlin!  It was a moment to remember, and I will never forget it.  Mr. Bush returned to his seat, and the entertainers left for the backstage area.

I've been going to George concerts all over the U.S. for years and years and it never changes.  Just before he comes out I have 'hummingbirds' in my stomach and my hands get cold. It's a special symptom familiar to Strait-fevered fans.  Those intense feelings all disappear once he strides out on stage smiling and waving. I have tried many times to put the feelings I have at that moment into words and it's difficult. All I know is from the moment the band strikes up with "Deep In The Heart Of Texas" I am totally focused on one person - George!  When George is in front of me singing his heart out I feel no pain, I have no worries, and I'm flying high like a feather in the sky. This night those 'hummingbirds' in my stomach were ten fold. I was an absolute but delighted wreck. I watched the band come out and strap on their instruments, get set up, and know I sat there like a Cheshire cat with a continual grin on my face.

I heard George's voice first, then screams from the audience, and I glanced up to the video screen to see George sitting on a beautiful paint horse. He spoke for only a moment before he turned the horse and rode off. I hadn't caught what he said because the crowd was already applauding and screaming.

The camera followed him as he rode from the site of the new building into the old Astrodome where his huge record-breaking audience awaited him. Seeing him ride in was almost as good as the concert.  Watching George ride is a pleasure because he is such a natural at it and sits so easily in the saddle.

I remembered it was very cold and windy outside and with a wind chill. I said softly out loud "Dadgummit George, you've had laryngitis and there you are out in that cold!" I looked to the opposite side of the building and watched him riding in, saw him dismount off that good-sized horse, and hand the reins to someone. Then Mr. George Strait strolled up to the stage as the building erupted in screams and applause.

For this occasion he wore a cream colored western shirt - Wrangler of course - starched and pressed to perfection. You could almost feel the crinkle and smell the clean scent.  He had on his full ostrich quill boots and his black Resistol, and his trademark pressed Wranglers. It was so good to see him, and I wanted that first moment to slow down and last longer. Before his concert had even started I was so proud of my George I felt like I would burst.

We were all standing and applauding as he took the stage, waved and smiled that Strait smile, walked to his guitar, and strapped it on.

The opening song was "Stars On The Water" one of my favorites from his new album.   One song after another Mr. Strait proved why he deserved to be on that stage, and why his fans have been so fevered about him and loyal to him throughout the years.

Looking around I was pleased and proud to see young children dancing and singing along with him, as well as my friend who is in her 70's. There is no generation gap and no age barrier when it comes to loving the real thing, the original from Texas, the smooth comforting vocals, and motivating music of George Strait.

As George left the stage for the final time and stopped to shake hands and sign a few things the air was filled with confetti including gold shaped stars. The announcer said that a record had been made that night, that there had never been so many people under the roof of the Astrodome and there had been no standing room left.

The reviews of that night sang praises for the people who helped make the occasion special, and all reviews for Mr. Strait were excellent. I spent days reading them all after I had returned home.

I still sit at my desk at work and have flashbacks, falling into a daze remembering what a time it was. Then I inevitably shake my head and smile as I think about how much that slim Texan has accomplished. I don't think he really realizes how much his fans love him, nor does he know just how truly great a singer and entertainer he is, but we know.

Rodeo Houston

GEORGE STRAIT

7 p.m. - Tuesday, Feb. 25, 2003

RODEO HOUSTON appearances: 1983 -- 1997, 2002,  2003

With 68,266 fans at his 2002 RODEO HOUSTON appearance, George Strait broke the paid attendance record for any event ever held in the Reliant Astrodome. The number one RIAA-certified country artist overall, with 25 platinum records, Strait went back in 2003 to open RODEOHOUSTON in Reliant Stadium. He first performed at RODEO HOUSTON in 1983 as a last minute replacement for an ailing Eddie Rabbitt. Strait is one of only three entertainers to perform for more than 1 million RODEO HOUSTON fans and was honored with his name on the Houston Livestock Show and Rodeo Star Trail in 1996.

Strait's countless achievements include four American Music awards, 11 Academy of County Music awards, 15 Country Music Association awards and the Presidential American Vocation Success Award. A member of the Professional Rodeo Cowboys Association, Strait's musical talent has resulted in 50 number one singles at this date.

As I talked with friends the announcer said that there was a traffic jam, and that they would hold the start of the presentation until more people could get inside the building and to their seats.

Tom Foote walked by and said "Good evening Ladies." Somehow that was reassuring.  I heard a friend mention secret service and looked where she was looking. There stood a tall handsome man in a dark suit, his eyes going from person to person, and he had a headphone in his ear. There were some seats close by him that were still vacant, and it was then I realized that former President Bush and Barbara Bush were actually going to be there, sitting about 20 feet from me. It wasn't long after the realization that it became fact.  

To our right people started to stand and applaud. We stood, and I saw a dark brown cowboy hat coming towards us and as he came nearer I saw Mr. Bush smiling and nodding and waving hello. Mrs. Bush was smiling also, and looked wonderful. Mr. Bush wore a dark brown western suit, and his boots had an American flag on them. I felt really lucky to be there, and sitting in that seat. Off and on during the presentation and during George's concert I would look over and see Mr. Bush's boots moving to the beat of the music, his hands clapping right along with ours  it was truly a very special experience for me.  I know sat there smiling almost the entire time.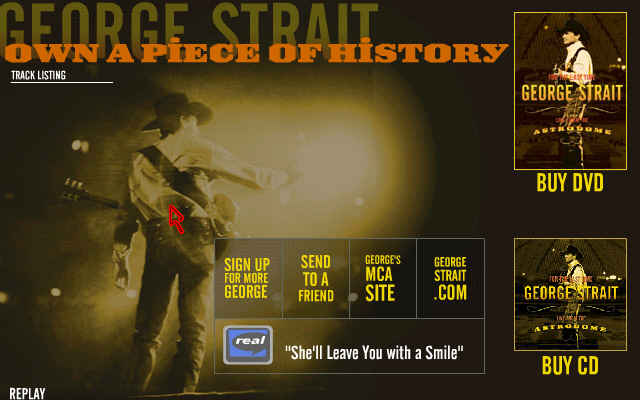 This is one of MCA's Ads for George's Live CD released on March 4th, 2003.   I've linked it to the MCA-Nashville site.  Just click on George Strait for more information.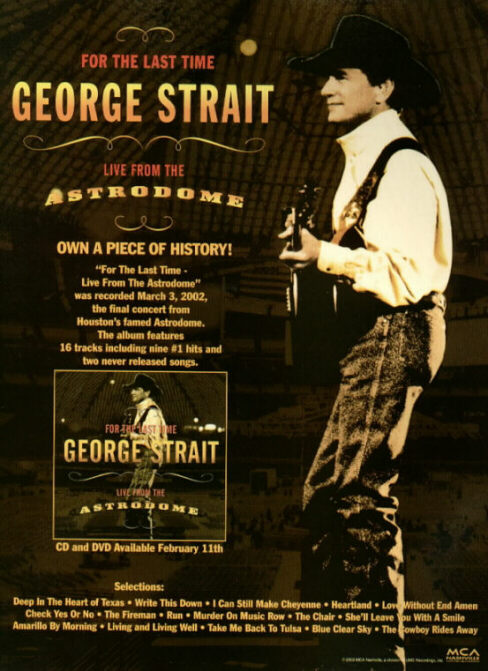 This is the artwork for the cover of the CD and DVD.  If you are a George Strait fan you MUST have it ~ this is the absolute best from George.  What a joy to have a new live performance to watch at your leisure whenever you want to.

This tribute page was last updated on: 24 June, 2011
SONGLIST:

Stars on the Water

I Can Still Make Cheyenne

Write This Down

When Did You Stop Loving Me

Heartland

Check Yes or No

Lead On

Fireman

Run

Murder on Music Row

The Chair

Blue Clear Sky

I Just Want To Dance

My Life's Been Grand

She'll Leave You With A Smile

Does Ft. Worth Ever Cross Your Mind

Meanwhile

Amarillo by Morning

If You Can Do Anything Else

Living & Living Well

Take Me Back To Tulsa

Milkcow Blues

True

The Best Day

Unwound

Encore:

Folsom Prison Blues

This is Where the Cowboy Rides Away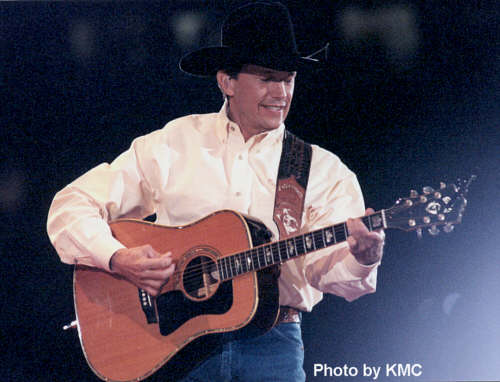 It was a pleasure to watch George as the stage rotated. We were able to watch him for at least a part of every single song.  There were cameramen all over, some moved with him, others were on the stage itself. 

For his part George seemed to be enjoying himself more than usual. He was energetic, had total control over his audience, and his vocals were smooth; sometimes laced with a deep growling quality that reminded me of Conway Twitty.  Though he had recently been sick there was no sign of it this night; his vocals were amazing, his interpetation of the songs perfection. There was still a hint that he had laryngitis but the resulting huskiness only served to make his baritone even more appealing, especially on some of my personal favorites, songs such as "Run" and "Does Forth Worth Ever Cross Your Mind."

It's nice to have him going back to smaller venues, but at the same time I realize that this size audience really pumps him up right along with the Band. You can feel the energy and excitement all around you as well as see it in George.

My thanks to my friend Kitty C. for sharing her excellent Houston photos.

My tribute to the honest talent of an awesome cowboy.  Thank you Mr Strait.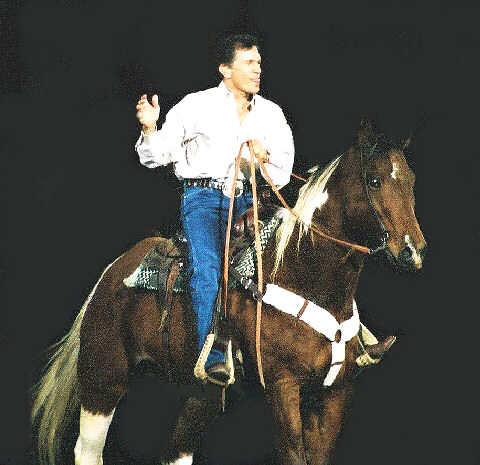 Thanks to Susan P. for this wonderful photo.


The next thing I knew security carried over one length of security fencing and stood it right in front of us. I started laughing and leaned over the shoulder of my friend Adele who was in front of me and said "doesn't it strike you as funny that we have had all these entertainers and the former President in front of us and not until now - just before George comes on stage - do they put up a fence. Somebody saw us sitting here and thought George might need some help."  We had a good laugh over it.

George included "Folsum Prison Blues" in this show and forced me to get my blood pumping even more as I moved with the rhythm of that great Ace in the Hole Band. To finish it off appropriately George ended the song by walking back to the microphone and saying a hearty "Awww sooie!" Then he looked over and caught us laughing at him,   enjoying him,  absorbing and loving that moment which was the making of another great memory.

As the strains of "This is where the cowboy rides away" filled the air I felt the old letdown coming. Another show over, and George walking away.   As much as I like to watch him walk I prefer seeing him coming towards me!  As usual I combated that coming down feeling with the realization that there was another show down the road for me this fall, and more memories to be made with the real deal, the very best singer in my world, George Strait.