"My career has been long, but it seems short," said Strait. "I've had so many great things happen to me professionally that the saying, 'Time flies when you're having fun,' really rings true for me.  The same holds true for #1 records.  I really wasn't keeping count until someone told me I was close to breaking the record." 

With the exception of his first album, every standard studio album ever released by the superstar has spawned at least one number one hit song - many with two or three chart toppers. That's over twenty years at the top of his game and Strait shows no signs of slowing down.

It is often said that George Strait has a particularly innate talent for choosing the perfect song.   For Honkytonkville he selected songs by such accomplished tunesmiths as Bruce Robison and Monte Warden ("Desperately"), Anthony Smith and Bob DiPiero ("Cowboys Like Us"), Jim Lauderdale and John Scott Sherrill ("She Used To Say That To Me") and Buddy Brock, Dean Dillon, and Kim Williams (on the title cut "Honkytonkville"). Dean Dillon also contributed two other tracks on the disc ("Four Down And Twelve Across" written by Dillon and Tom Douglas and "Honk If You Honky Tonk" written by Dillon, Ken Mellons, and John Northrup). Longtime collaborator, Tony Brown artfully co-produced the disc with Strait.  Also among the above gems is "My Infinite Love" by Byron Hill and Billy Yates.


Perhaps it's the sincerity with which Strait delivers a song or maybe it's the reticent superstar's lack of flash and glitz that so many fans relate to.  Whatever the case, his popularity is undeniable. Strait began his remarkable recording career 22 years ago with the release of Strait Country. To date, he has sold over 58 million records and is the #1 RIAA certified country artist with 26 platinum records. His most recent live CD, For the Last Time, Live From the Astrodome, (released February, 2003) marked the historic final concert at Houston's Astrodome and landed the #2 spot on the Billboard sales chart its first week out. His last studio release, The Road Less Traveled (released November, 2001) spawned three number one singles and was certified platinum by the RIAA. 
"She'll Leave You With A Smile" from that disc was Strait's 50th #1 radio single, a career achievement that surpasses every other single artist.

On May 21 George Strait was honored at the 38th Annual Academy of Country Music Awards with the prestigious Special Achievement Award.  This special award acknowledges unprecedented, unique and outstanding individual achievement in country music.  There have been only three other previous recipients of this honor; George Burns (1980), Jeff Foxworthy (1995) and Garth Brooks (1997). In addition to the Special Achievement Award, he was also nominated for the sixth time in the "Top Male Vocalist" category.
ACM Awards May 21st, 2003 

At the Mandalay Bay in Las Vegas George Strait was honored with the Gene Weed Special Achievement Award, recognizing his 50 No. 1 hits. 

Alan Jackson stepped on stage to present GEORGE STRAIT the Gene Weed Special Career Achievement Award. Jackson was particularly eloquent speaking about his friend and idol.

"Hey George, they asked me to come out here and present you with this and I was honored to do so. I think I speak for most all country singles, guys especially, that have been around for the last 25 years, or maybe not that long but a long time, since the early '80s, 'cause you inspired so many of us, including me. And you're just a class act and always have been."

"What I like about you -- I'll tell you what this is in a minute, but you know, you never had to tear holes in your jeans or grow a goatee or anything, you don't follow any trends." (Cheers from audience)  "You don't have to because I figured out you're just naturally cool, you're just naturally cool."

"So anyway, the Academy of Country Music wants to honor Mr. George Strait with the Gene Weed Special Achievement Award for 50 #1 singles and great songs they were. Congratulations."  Alan handed George the award, a bowl that George said he knew his wife would like.

"Thank you Alan.  I knew I was going to get this so I cheated," Strait said as he pulled a list of people to thank out of his jacket pocket. "But in order to read this...  I need my glasses ..." he added, then plucked his reading glasses out of his other pocket, to the delight of the audience.  Not many people could do that with such class.

Strait concluded his acceptance speech with a promise that all of his fans were aching to hear.  

"To all of my fans out there who have stuck with me all these years,  there's  just one thing: I'm not done 'til you say I'm done."  Then with a  glance out over the crowd,  "Thank you very much."

George, you're going to be around a long, long time my friend, so just plan on it.   This fan is smiling big time.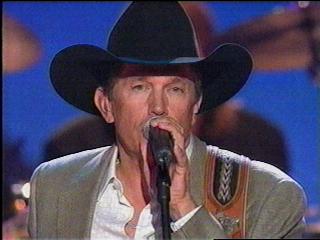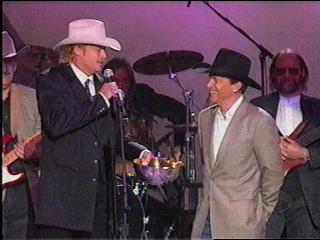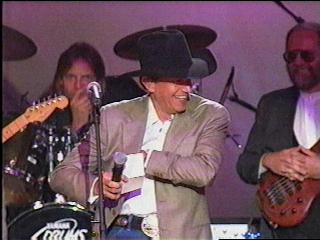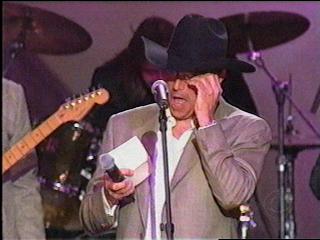 "I'm not done 'til you say I'm done."

The Gene Weed Special Achievement Award,

Given to George at the ACM Awards, May 21, 2003

George received the Gene Weed Special Achievement Award, recognizing his unprecedented 50 No. 1 hits.

This page was last updated: November 4, 2007