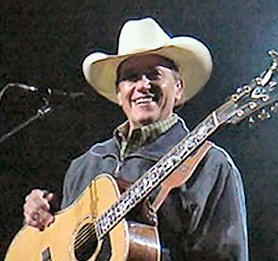 STRAIT FACTS:  

George is the most-played Country artist this decade according to BILLBOARD.  He tops the magazine's list of the 40 most-played acts in Country with more than three million spins over the past 10 years.

GEORGE STRAIT recorded his first single "Unwound" February 2nd,1981, it was released April 23rd, and climbed  to #6 on the charts. Since then George Strait has not been off the charts, and that's a span of over 20 years -- a first in  Country Music.

When GEORGE STRAIT'S single "The Best Day" knocked Toby Keith's "How Do You Like me Now?" out of the No. 1 slot on the Billboard chart,  he made music history.  Not only did STRAIT end Keith's five-week run at No. 1 - he also garnered his 36th chart-topping single, giving him the distinction of having the most-ever #1 songs by a solo artist on the Country charts.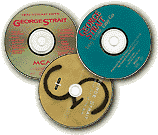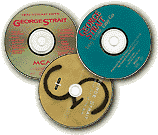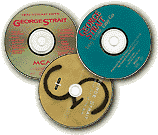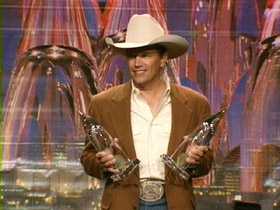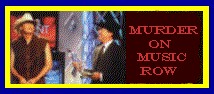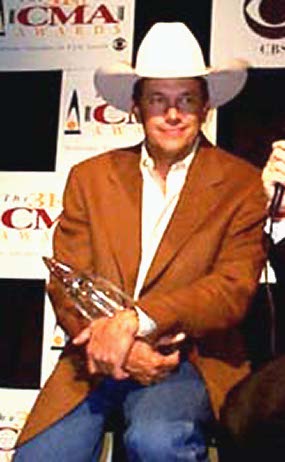 For complete Stats, Discography, and Award History please go to www.GeorgeStrait.com

I'm currently changing this page.  I see no reason to repeat all of the stats recorded on George's own website so will instead dwell on more personal items and articles on this page in regards to George receiving his Awards.

George Strait donates a stage outfit, saddle and boots to the Hall of Fame.

It was George Strait's party, but he was the one handing out the gifts. As MCA Records celebrated the singer's 55 million in career album sales Thursday night (Nov. 30) with a private gathering at Nashville's Gaylord Entertainment Center, Strait cemented his place in the new Country Music Hall of Fame and Museum by donating a stage outfit -- complete with starched jeans, shirt and boots.

"Next you'll get my underwear and socks," Strait cracked to Kyle Young, director of the Hall of Fame.

Strait, a Texas native known for his love of steer roping, also offered up one of his championship belt buckles, custom-made spurs and a leather saddle given to him by his fan club when he won the Country Music Association's Entertainer of the Year award in 1989 (an honor he won again in 1990).

"These are important acquisitions," Young said. "These items will help us tell George's story along with stories of Lefty Frizzell, Bob Wills and so many other master craftsmen, past, present and future."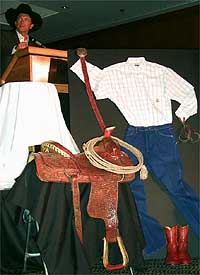 Strait, usually not one to bask in the glow of his own success, clearly enjoyed his rare Nashville visit. Looking tan and fit in his trademark starched jeans, cowboy hat and sportcoat, he laughed a lot, cracked some jokes, and even planted a big kiss on his wife, Norma, when she was called to the stage.

"Hey look, I'm Al Gore," he quipped as he surprised Norma with a smooch, recreating Gore's long kiss with wife Tipper at the Democratic National Convention.

In a rare interview before the party, Strait told country.com he was glad to step into the spotlight for a moment to relish his 20-year career and long association with his record label. Strait signed with MCA in 1981 and has recorded for the label ever since.

George pulls an "Al Gore" on his wife, Norma ... who reacts with a surprised laugh. 

"You know, I have got that reputation [of being reclusive], but I really wanted to come," he said. "I don't need to be in the spotlight all the time, but I'm excited about being with MCA. When you think about it, that's a long time to be with one record label. I haven't done a lot of interviews in the past. I don't mind it that much sometimes, but I do like my privacy also. I like to do my music stuff, and after I do that, I like to step away from it and do other things."

Strait to the Hall of Fame

George Strait Donates Personal Items, MCA Celebrates a Record Sales

By Lisa Young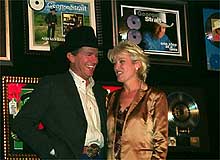 Strait also received something to hang on his wall. MCA Records unveiled an impressively huge plaque commemorating his 55 million in album sales. Nearly every one of Strait's albums have been certified platinum (for sales of one million) or multi-platinum by the Recording Industry Association of America (RIAA). His boxed set, Strait Out of the Box, has sold 7 million copies, making it the second most certified title in the MCA Nashville catalog, behind only Patsy Cline's Greatest Hits.

"It's breathtaking when you focus on the fact that George is the No. 1 most certified country artist of all time, with 25 platinum albums," Hinton said.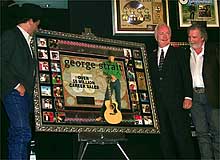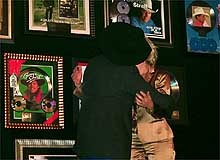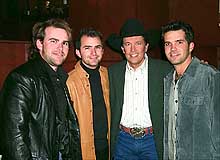 Labelmates Sons of the Desert with Strait.

Strait's latest album, which is self-titled, has produced another hit. "Go On" went to No. 2 on the Billboard country singles chart and now sits at No. 11. After two decades in the business, Strait credits his steady success to long associations with his manager, Erv Woolsey, his band, Ace in the Hole, and his label. But he admits it's the lure of the crowd that keeps his desire to make good music alive and kicking.

"When you continue to cut new material and you go out onstage to play it for people, and you get that reaction from a new song that you've cut, it's so rewarding," Strait said. "Sometimes you don't get that, so that keeps you trying and trying more and more to find those kinds of songs."

Strait's music continues to anchor one of the most successful country tours of all time -- the George Strait Country Music Festival. In its past three outings, the multi-act show has grossed $90 million. While Asleep at the Wheel and Lee Ann Womack are return support acts, first-timers Brad Paisley, Lonestar and Alan Jackson will join the bill on the fourth incarnation this spring.

"I think we've got a great lineup," Strait said. "I've worked with Alan before, but it's been a long, long time, so I'm looking forward to that. We'll be doing 'Murder on Music Row' probably every night that we're out. I like Alan. I love his music. I always have."

The singer said negotiations are under way for one more act to join the tour, but he declined to name them until the deal is signed. Strait pointed to the revolving stellar lineup as one key to the tour's continued success.

"I think it's a lot of fun for people to come out, and the tickets are pretty reasonable to see six acts that you hear on the radio all the time," he said. "This festival situation is very nice, but I don't know how long we'll continue to do it. We'll do it as long as we can. It's the most fun touring that I've had, and I've been touring a long time. But eventually we'll start doing arenas again."

One of my favorite recent articles: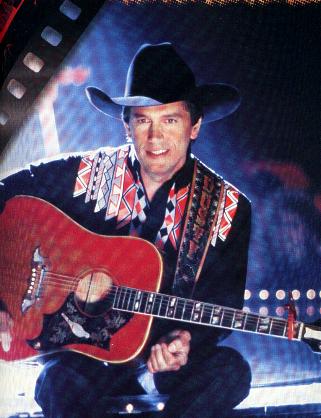 As for his movie career, Strait hasn't made a film since 1992's modest hit Pure Country, whose soundtrack has sold some six million copies. It seems for now his music might be enough to keep him from returning to the big screen.

"I thought there for a while I might like to do another one, but I'm pretty happy right now," Strait said. "If something came along that I just couldn't turn down, I would, but it's going to have to be something pretty special."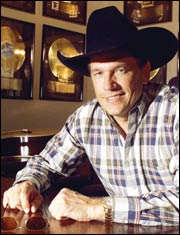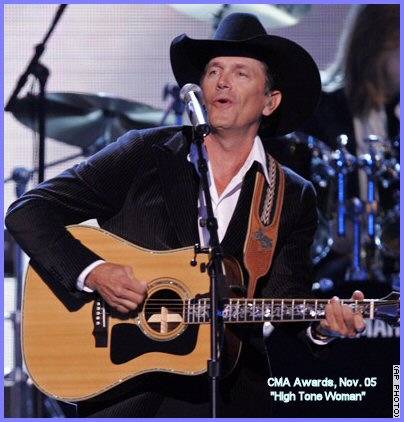 THE COUNTRY MUSIC ASSOCIATION AWARDS

This page was last updated: December 4, 2014

George Strait is the All-Time Leader for Number One Country Singles!

"Give It Away" Is Strait's 53rd Number One Single on Billboard

NASHVILLE, Tenn., Sept. 18, 2006 /PRNewswire/ -- The King of Country Music strikes again, notching his 53rd number one. "Give It Away," the debut song from his forthcoming album, is Strait's fastest-moving single in five years before claiming the top spot in a mere 13 weeks, making him Billboard's all-time leader for number one country singles.

Humble as always, Strait had this to say about his latest coup: "First of all, it's hard to believe it has been 25 years. When I think about putting together an album, the process of listening to hundreds of songs each time and picking out the best 10 or so that will go on the record, it really sinks in as to just how many songs I've listened to all these years. Considering that and the fact that my fans and friends at radio have stuck with me all this time makes it seem even more incredible. I can only say thank you and thanks also to all of the great songwriters who wrote those wonderful songs that became number ones."

Strait's highly anticipated 34th studio release, IT JUST COMES NATURAL, will be in stores on October 3. From sophisticated Western swing and clever barroom anthems to sawdust two-steppers and smoky neon ballads, the recordings are classic Strait.

"This album's got fifteen songs, which is more songs than I've ever put on a record before," says George Strait. "But I thought they were all so good, there wasn't one song on here that I would have felt right about leaving off. I really think we came up with one of the best albums I've ever done."

Since his debut in 1981, this Texas troubadour has indeed been doing what comes naturally, putting together scores of hits that have earned him millions of fans worldwide and the unanimous respect of the critics.

Beyond the accolades, Strait is revered for his traditional brand of music that brings out the cowboy in all of us. In that vein, "Give It Away" is the classic roper's lament of the tough guy who refuses to give up on the girl who has given up on him. Strait delivers it in his trademark smooth style, lending the tune a tone of regret laced with just enough attitude to make the song real.

With this new release and a slew of multi-platinum albums under his belt, Strait just keeps getting better, striking a chord among the legions that yearn for wide open spaces and a simpler lifestyle.

For more award photos, especially the CMA Awards:


This CMA Record Chart was last updated October 1, 2006

George Strait

17 Awards

66 Nominations
Awards:

2006 - Inducted into the Country Music Hall of Fame

2005 - Musical Event of the Year



"Good News, Bad News" (George Strait duet w/ Lee Ann Womack)
2000 - Vocal Event of the Year



"Murder on Music Row" (Alan Jackson and George Strait)
1998 - Male Vocalist of the Year

1997 - Male Vocalist of the Year

1997 - Album of the Year



CARRYING YOUR LOVE WITH ME - MCA
1997 - Album of the Year (Production)



CARRYING YOUR LOVE WITH ME - MCA
1996 - Male Vocalist of the Year

1996 - Album of the Year



BLUE CLEAR SKY - MCA
1996 - Single of the Year



"Check Yes or No" - MCA
1996 - Album of the Year (Production)



BLUE CLEAR SKY - MCA
1996 - Single of the Year (Production)



"Check Yes or No" - MCA
1990 - Entertainer of the Year

1989 - Entertainer of the Year

1986 - Male Vocalist of the Year

1985 - Male Vocalist of the Year

1985 - Album of the Year



DOES FORT WORTH EVER CROSS YOUR MIND - MCA
Nominations:

2006 - Inducted into the Country Music Hall of Fame, Nov. 6, 2006

2005 - Male Vocalist of the Year

2005 - Musical Event of the Year



"Good News, Bad News" (George Strait duet w/ Lee Ann Womack)
2005 - Album of the Year



SOMEWHERE DOWN IN TEXAS - MCA
2004 - Male Vocalist of the Year

2004 - Musical Event of the Year



"Hey Good Lookin'" (Jimmy Buffett, Clint Black, Kenny Chesney, Alan Jackson, Toby Keith and George Strait)
2003 - Male Vocalist of the Year

2002 - Entertainer of the Year

2002 - Male Vocalist of the Year

2002 - Vocal Event of the Year



"Designated Drinker" (Alan Jackson and George Strait)
2002 - Album of the Year



THE ROAD LESS TRAVELED-MCA
2001 - Entertainer of the Year

2001 - Male Vocalist of the Year

2000 - Entertainer of the Year

2000 - Male Vocalist of the Year

2000 - Vocal Event of the Year



"Murder on Music Row" (Alan Jackson and George Strait)
1999 - Entertainer of the Year

1999 - Male Vocalist of the Year

1999 - Album of the Year



ALWAYS NEVER THE SAME - MCA
1998 - Entertainer of the Year

1998 - Male Vocalist of the Year

1998 - Album of the Year



ONE STEP AT A TIME - MCA
1998 - Single of the Year



"I Just Want To Dance With You" - MCA
1998 - Music Video of the Year



"Carrying Your Love With Me" (directed by Christopher Cain)
1997 - Entertainer of the Year

1997 - Male Vocalist of the Year

1997 - Album of the Year



CARRYING YOUR LOVE WITH ME - MCA
1997 - Single of the Year



"Carrying Your Love With Me" - MCA
1997 - Single of the Year



"One Night At A Time" - MCA
1996 - Entertainer of the Year

1996 - Male Vocalist of the Year

1996 - Album of the Year



BLUE CLEAR SKY - MCA
1996 - Single of the Year



"Check Yes or No" - MCA
1996 - Music Video of the Year



"Check Yes or No" (directed by John Lloyd Miller)
1995 - Male Vocalist of the Year

1995 - Album of the Year



LEAD ON - MCA
1994 - Male Vocalist of the Year

1994 - Album of the Year



ASLEEP AT THE WHEEL TRIBUTE TO THE MUSIC OF BOB WILLS & THE


TEXAS PLAYBOYS - Liberty
1994 - Album of the Year



EASY COME EASY GO - MCA
1993 - Male Vocalist of the Year

1991 - Entertainer of the Year

1991 - Male Vocalist of the Year

1990 - Entertainer of the Year

1990 - Male Vocalist of the Year

1990 - Album of the Year



LIVIN' IT UP - MCA
1989 - Entertainer of the Year

1989 - Male Vocalist of the Year

1989 - Album of the Year



BEYOND THE BLUE NEON - MCA
1988 - Entertainer of the Year

1988 - Male Vocalist of the Year

1988 - Album of the Year



IF YOU AIN'T LOVIN' YOU AIN'T LIVIN' - MCA
1987 - Entertainer of the Year

1987 - Male Vocalist of the Year

1987 - Album of the Year



OCEAN FRONT PROPERTY - MCA
1987 - Single of the Year



"All My Ex's Live In Texas" - MCA
1986 - Entertainer of the Year

1986 - Male Vocalist of the Year

1986 - Album of the Year



#7 - MCA
1986 - Single of the Year



"Nobody In His Right Mind Would've Left Her" - MCA
1985 - Entertainer of the Year

1985 - Male Vocalist of the Year

1985 - Album of the Year



DOES FORT WORTH EVER CROSS YOUR MIND - MCA
1985 - Single of the Year



"Does Fort Worth Ever Cross Your Mind" - MCA
1984 - Male Vocalist of the Year

1984 - Album of the Year



RIGHT OR WRONG - MCA
1983 - Horizon Award