There are a few sounds in this world that George Strait likes to hear more than any other: the stillness of a Texas lake, interrupted only by the chirp of crickets or the plop! of his fishing line's sinker hitting the water. The swoop of his golf club, followed by the pop when it meets the ball. The reassuring clop, clop, clop of his horse's hooves hitting solid ground. These are satisfying sounds for George for they signify solitude and peace, timelessness and escape.

But then there is another sound, one that he cannot seem to leave behind: the roar of a crowd. Whether it's at a concert or a rodeo, the screams of fans continue calling to him, luring him.

The push and pull between his longing for privacy on one hand, and his love of music and pleasing his public on the other, have defined George Strait. That balance has sustained him through one of country music's most remarkable careers. For over two decades, he has set the standard.

In that time, others have had bigger-selling albums, but none has hit the bull's-eye with fans and critics alike so consistently. Others have been media darlings, but none has matched his mysterious, man-of-few-words allure. Others have had bigger hits, but no one has found as many wonderful songs, or sung them so well, so smoothly, so perfectly.

This still-vibrant legend has a long road ahead, waiting for him. But the road behind him began in "The Strawberry Capital of the World," Poteet, Texas about 25 miles south of San Antonio  where George Harvey Strait was born on May 18, 1952. He grew up on his family's cattle ranch in nearby Pearsall, near the Frio River.

"It wasn't exactly a country-music upbringing," chuckles George. "My dad didn't even have a record player. When he listened to the radio, it was usually for the news or the cow market reports."

George and older brother Buddy were mostly raised by their father, John. His parents split when George was in the fourth grade, and his mother left, taking his sister with her. But John, a junior-high math teacher and rancher, was devoted to his sons. From him, George learned to rope cows and ride horses long before he ever wrapped his hands around a guitar neck.

But slowly, music began seeping into his life. By the time high school rolled around, George was playing drums and singing in garage bands.

One of his fellow students at Pearsall High School was pretty Norma Voss, two years his junior. "Norma was the first girl I ever loved," recalls George. "We knew each other forever, growing up in a small town." George asked her out, but the two drifted apart after only one date. "Then one day I thought, 'I'm missing the boat here!' " he says. "So I called her up, and we started dating again."

George graduated from high school in 1970 and headed to Southwest Texas State University in San Marcos, near San Antonio. After one semester, he and Norma, fueled by idealism and hormones, friskily headed south of the border to Mexico and got married only to remarry more formally in Dec.1971 to please their parents.

Young George had every intention of becoming a rancher, taking over from his dad. But first, George decided he should do his bit for his country by joining the Army and almost impossibly, that turned out to be a decision that would put him on the path to superstardom.

Asked where he'd like to be assigned, George asked for Hawaii  "What the hell, try it," he recalls reasoning. He never dreamed he'd actually be stationed in the island paradise, but that's exactly where Uncle Sam put the lucky new recruit. "Man, I got my orders to go to Hawaii, and I just could not believe it!" he says.

Newlyweds George and Norma enjoyed the tranquility of the Hawaiian islands  but while he was there, George found something else he thought was pretty beautiful. It was an album: Merle Haggard's 1970 salute to Western swing legend Bob Wills, A Tribute To The Best Damn Fiddle Player In The World. "That really turned me on to Bob Wills' music," says George.

By that time, George was already wondering if he might be able to follow in the footsteps of guys like Merle and Bob. He had always enjoyed singing, and now he bought a cheap guitar and a Hank Williams songbook, and he was on his way. Again, George lucked out  the base commander decided to form a band to entertain the troops. George tried out for the lead-singer position and nabbed it. Singing for the soldiers was good practice for the lifetime of stage work he didn't know yet was in store for him. "It gave me the time I needed to learn all about playing dates," he says.

One more beautiful thing entered George's life in Hawaii.  He and Norma had a daughter, Jenifer, in 1972. The new family attempted to stay in the islands after George's Army stint ended in 1975, but after six months the cash-strapped Straits went back home.

George Strait decided to give up his dream of stardom. He broke the news to his Ace In The Hole buddies that he was packing it in  and signed on for a full-time job in Uvalde with a company that designed cattle pens.

But almost immediately, Norma saw a change in her husband. George became difficult to get along with, and was moping around their San Marcos home like a defeated man. "I figured I didn't want to live in Uvalde with him like that," she remembers. "I wanted him to give it one more chance."

Norma talked George into giving music another year  so a week before he was supposed to report to his new job, George called and told his prospective employer that he wouldn't be coming. "Norma has always been very supportive," says George. "Success is something she always wanted for me, because she knew how bad I wanted it."

Soon George made another important call, this time to a former nightclub manager, Erv Woolsey. Woolsey had owned the Prairie Rose, one of the many clubs George had played in Texas, and was now an executive at the MCA Nashville record label. "Isn't there some producer up there in Nashville that you can get to do a session on me?" asked George.

Erv hooked his old friend up with producer Blake Mevis, and George returned to Nashville to record with him. The pair laid down several songs, but the response from the Music City brass was already familiar: too country. "I went home with my tail between my legs," says George.

But once again, George picked himself up, dusted himself off and had another try. George and Erv convinced another MCA exec to come to San Marcos and hear the Ace In The Hole band in its element: a honky-tonk nightclub. It worked  George was offered the chance to record one single for MCA; if that was a hit, maybe he could make an album. "I had my fingers crossed," says George.

But almost immediately, Nashville began trying to change George. "When I came to town wearing a hat, all I ever heard [was] 'Take the hat off,' " he recalls. "But I never would do it. They were trying to make me into something else, but I was too hardheaded."

No matter. George and Erv had already found a killer song  a little heartbroken drinkin' number called "Unwound"  and were ready to go.

"Unwound" was released and began getting radio play. It entered the charts on May 16, 1981, two days before George's 29th birthday, while he was still working his day job as a ranch foreman in San Marcos. "Here I was driving around the ranch, and I'd hear it on the radio as it went up the chart," he says. "I was shocked!"

"Unwound" wound its way to No. 6, and George got the go-ahead to make a full-fledged album. Now his appetite for success had been whetted. One day he walked into the MCA offices and looked at the gold albums hanging on the wall. "You think I'll ever get one of those?" he asked Erv. "I don't know," replied Erv. "We'll have to see."

Untill an unproven newcomer, George didn't have much control over his debut album, Strait Country, and unsuccessfully resisted the pop touches producer Blake Mevis added. "The songs that we chose for that first album, I didn't have just a hell of a lot to say about," he says. "I did think that the majority of the songs we cut on there were good songs, but there are some songs that, if I were to go back right now, I'd try to say, 'No, we're not gonna do that.' "

George may not have liked some of the material, but it worked. He was establishing a foothold on the charts  "If You're Thinking You Want A Stranger (There's One Coming Home)" got all the way to No. 3, and "Fool Hearted Memory" finally brought him to the top. For "You Look So Good In Love"  soon to be his third No. 1  George agreed to make his first video. "It was embarrassing, corny, syrupy, gag me," he says.

George's dislike of the clip set the tone for his entire career, which has only included only a handful of videos in two decades. "I've never cut one that I really liked," he confirms. "I've probably done it a little halfheartedly, because I never really wanted to do it. That's probably why they came off the way they did  you know, you get pretty much what you put into it."

His dislike of this new promotional tool wasn't the only way George was straining at the Nashville leash. His patience was growing thin with the pop sheen being added to his records, when his heart was with the hard-core country and Western swing he was still cranking out with the Ace In The Hole guys on the road night after night.

Finally, when his planned fourth album was almost finished, tensions came to a head. "I've got 10 tracks and I'm never going to put my voice on them," he declared to the new head of MCA, Jimmy Bowen. Until then, George had been too intimidated in the studio to stick up for the way he wanted to do things  but now, with several No. 1 hits and an ACM Male Vocalist of the Year award under his belt, the balance of power had changed.

To his relief, George's new boss agreed with him  and never again would George Strait put his name on an album that didn't meet his standards. And moving to a more traditional-country sound didn't even mean a speed bump for George's chart numbers. On the contrary, he was spinning out smashes left and right: "The Fireman," "Does Fort Worth Ever Cross Your Mind," "The Chair"  even one of the ill-fated songs from his first Nashville recording experience in 1977, "Nobody In His Right Mind Would've Left Her," was re-recorded and sent on its way to No. 1 in May 1986.

George Strait was on top of the world. Then the world crumbled beneath him.

On June 25, 1986, his 13-year-old daughter, Jenifer, was killed in a car crash south of San Marcos. George relied on family, friends and religion to get him through the horror of losing his firstborn child. He also buried his grief in work  he was back on the road only three weeks later.

But George refused to give interviews for a year, and to this day has said little publicly about his daughter's death. An already-private man shut the door to his home life even more tightly.

"I got even more private after I lost my daughter," he says. "That's when I really shut things down. I didn't feel like talking to anybody that wasn't really close to me." After the tragedy, getting publicity by chatting up the press meant little to him. "I had the attitude that nothing worse could probably happen," he says, "and so this is the way I'm going to do things."

It could have been a disastrous career decision  but in George's case, the opposite became true. The less his fans knew about what was on his mind, the less they heard him speak, the more they longed to get close to him. His next album, Ocean Front Property, became the first ever to debut at No. 1 on the country albums chart.

George put his nose to the grindstone and kept at his work. In 1989 he won the CMA's Entertainer of the Year award for the first time, an award that he really seemed hungry for and one that seemed impossibly out of his reach a decade earlier. "I really wanted that thing," he says. For George, it was the biggest professional honor he could get.

The extent of his pride could be seen right on the cover of his next album, Livin' It Up: there was George decked out in a tuxedo, set off by a belt buckle reading "Entertainer of the Year." It was a rare show of swagger from a humble man.

Having reached the pinnacle of country music, George now began to take seriously something former Elvis Presley manager Col. Tom Parker had been telling him  that the handsome country star could be a movie star as well. But George was still skeptical. "I didn't want country music people to look like hillbilly hicks," he explains, "because they're not."

George found what he'd been looking for in Pure Country, the story of a country star who abandons stardom's glamour for the simple pleasures of ranch life. It was certainly something George could relate to, and he threw himself into the role with gusto. The movie took in $15 million upon its 1992 release  not a blockbuster, but a good start for George's potential movie career.

A decade later, he's still considering pursuing acting further. "I'm not totally against it," he says. "But it's not something I'm out looking around to do."

Three years later, George fulfilled yet another dream when he was asked to sing with one of his idols, Frank Sinatra. "My producer asked me if I'd be interested, and I said, 'Hell, yes!' " he laughs. George and Frank's team-up on "Fly Me To The Moon" wasn't used on Ol' Blue Eyes' album, as planned  which left George feeling "really mad and let down," he admits. The track showed up, instead, on George's 1995 4-CD retrospective, Strait Out Of The Box, itself a monument to the growing magnitude of his fame.

Now George was himself a monument  country was more popular than ever, and his influence could be heard all over its new generation of stars. Guys like Alan Jackson, Clint Black and Garth Brooks credited George with inspiration  Garth declared that hearing "Unwound" back in 1981 inspired him to become a country singer.

When he teamed with one of those admirers, Alan Jackson, the two sparked a controversy. Their 2000 duet, "Murder On Music Row," was a stinging indictment of the country music business' abandonment of traditional sounds, and it became an anthem for music fans who felt the same way.

By then, George was the perennial headliner on the George Strait Country Music Festival, a traveling all-day extravaganza that filled stadiums across America. But even as his power to draw concert crowds grew  in fact, practically from the moment he became a superstar in the 1980s  George was slowly cutting back on the number of shows he played. He loves the time spent onstage, but the travel keeps him away from home and family. "I'll be a country singer until I die," he says, "but I know for sure I won't be touring 'til I die. Not unless I die touring."

For the moment, the balance in George Strait's life  between home and the road, between the spotlight and the ranch, between the roar and the quiet  is just right. He spends enough time on the road to satisfy his fans, but not enough to burn out. He makes an album every year, but even that takes a minimum of fuss  he carefully considers song choices for months, but can knock out a flawless studio set in a few days' work.

The rest of the time, he's out on that lake, hearing those crickets. At home, hearing the warm voices of Norma and the now 21-year-old Bubba. Or out on his ranch, hearing that clop, clop, clop of horse's hooves beneath him, carrying him forward into a still-unfolding future. One day they'll carry him into the sunset  but not yet.

"I feel real comfortable with my situation now," concludes George. "As long as people want to see me, I'm going to keep going."

"We're going back to playing the arenas and I'm really looking forward to it"

George Strait is gearing up for his exciting fall tour with a brand new game plan: playing arenas, instead of massive stadiums, to give his show a more intimate feel.

For the past four years, George headlined the George Strait Country Music Festival, a swirling extravaganza that played huge outdoor venues and featured a full day of music, a large festival area and a carnival atmosphere. It was country's only all-stadium tour, setting a high standard for the multi-act festivals of Brooks & Dunn and other stars.

While his stadium tours busted attendance records, George missed the personal contact with his fans. Most of the shows on this tour will use an in-the-round format, where fans will feel closer to their favorite star.

"We're going back to playing the arenas and I'm really looking forward to it," says George. "We definitely had a great time doing the stadiums, but I'm excited about seeing some faces again. You can tell a difference, and I think it will be a fun change of pace."

George's Chevy-sponsored fall tour hits 21 cities and kicks off Sept. 12 in Detroit. The final stop, Nov. 2 in San Antonio, Texas, promises to be one of the most exciting events of the year. George will be performing the very first show at San Antonio's spanking new, state-of-the-art arena, the SBC Center.

Joining George is special guest Jo Dee Messina. "I am so excited to be asked to be a part of this tour," exclaims Jo Dee. "George Strait is a country music icon and I'm looking forward to hitting the road with him this fall."

And every year, fans excitedly look forward to George's road shows. Since he vaulted to superstardom in the mid-1980s, George has consistently ranked as country's top-drawer concert act.

"It's so great to have fans like that," says George with a smile. "It's just unbelievable to me that they're still coming out to the shows."

George really shouldn't be that surprised. He supplies what the fans demand  a catalog of classic hits, delivered in a smooth, easygoing style and without the over-the-top theatrics that mark many of today's live music events.

"I'm not a comedian," observes George of his no-nonsense approach to performing. "I can't even tell a good joke. The people come out to hear me sing, so that's what I go out and do."

And there's plenty of surefire material to deliver. Over his 20-year career, George has racked up 37 No. 1 hits, more than any current country artist. All of his past albums have sold at least one million copies each, and his latest, The Road Less Traveled, is on its way to that magic figure as well.

Get ready for a magical evening when George Strait takes his spectacular show to an arena near you. As George himself promises: "We're going to give the fans their money's worth!"

George Strait relishes life on the range with his family in south Texas

BY LARRY HOLDEN

George Strait wears the role of cowboy just as easily as he slips into his Wranglers each morning. That's because he is a cowboy  with well-honed riding and roping skills and a true love of ranching.

"I ride every day when I'm home," reveals George of the time he spends on his sprawling south Texas ranch, away from performing and recording. "When I'm off," he confesses, "I have my other life, my own life, that I choose to live."

That life revolves around George's passion for ranching and team roping, a rodeo event in which he actually competes. "I raise horses," drawls George, adding, "I raise cattle because I love it. If I can get some money back for it, that's good. But if I can't, I'd still do it."

The steers he raises are for the George Strait Team Roping Classic, a premier two-day team roping event held each year in Texas. It's important to George that the top rodeo stars competing in the San Antonio event have the best steers to rope.

"We started providing our own stock," notes George. "That's worked out better for us. Before, every year we got something a little different. Now we know exactly what type of stock we're getting."

"I love to rope," confesses George, seen here getting his lariat around a calf in 1999.

George  an excellent team roper himself with a razor-sharp competitive spirit  and his older brother Buddy started the George Strait Team Roping Classic 20 years ago. He and Buddy compete each year in the event, along with George's 21-year-old son, George Jr., and Buddy's sons, Trey and Walker.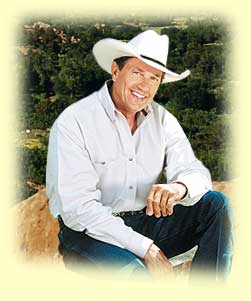 For over two decades, George Strait has stayed the course  and stayed on top

BY CHRIS NEAL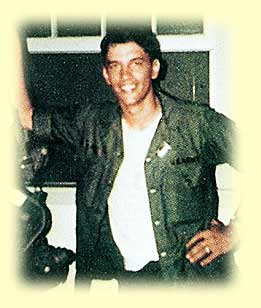 A Strapping young soldier in the Army in Hawaii in 1971

Performing with Ace In The Whole Band members

They set up house in San Marcos, and George re-enrolled at college, studying agriculture with the help of the G.I. Bill. He was still leaning toward a ranching or rodeo career, but music had become important enough to place an ad on a bulletin board looking for a new band. After hearing his perfect country voice, a local group made up of George's fellow college students eagerly signed him on.

At 23, George was the oldest member of the Ace In The Hole Band, which debuted in October 1975 at the Cheatham Street Warehouse in San Marcos. They soon became a regular fixture at all the local clubs. "There were a lot of places we could play, and we played most of them," recalls George matter-of-factly.

For his part, George was just enjoying the honky-tonk circuit, playing traditional country and Western swing every night for not too much cash. The Ace In The Hole Band caught a break in 1976 when they got the chance to record several songs for small, independent D Records  including some of George's own tunes. "I tried to write them like what I thought was a good country song," he says, but it was the first and last time George focused on songwriting.

Then, another break: George was invited to Nashville to sing on some demo recordings. For not the last time, he was met with resistance from industry gatekeepers who felt his voice was "too country" for the Music City mainstream.

George went back home, earning his agriculture degree in 1979 and going to work as ranch manager at the Hart Ranch in Martindale, Texas. "I was doing the ranching to supplement my income," he explains. "I really liked it, but it sure was hard."

George was now 27, and he and Norma were expecting their second child  George Jr., or "Bubba," Strait would come along in 1981. With domestic pressures piling up, George's musical career was beginning to look like a pipe dream. "I felt like I was spinning my wheels," he says. "I didn't want to be 42 years old and still playing the bars and honky-tonks. I was beginning to think I wasn't good enough, and maybe ought to try something else."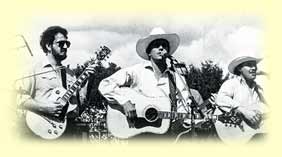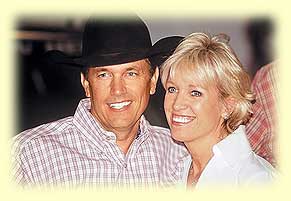 George and wife of 32 years, Norma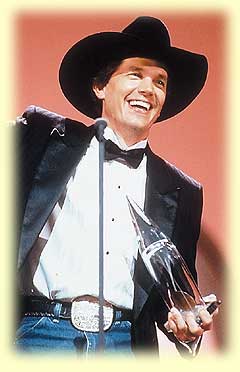 Picking up the 1989 CMA Entertainer of the Year award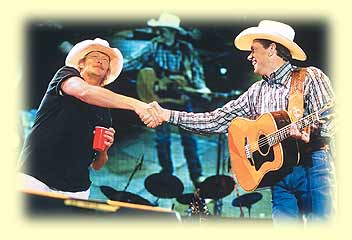 Sharing the stage with bud Alan Jackson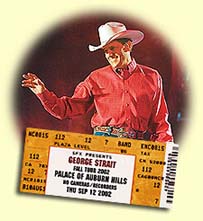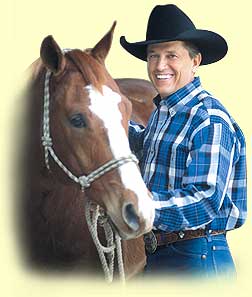 "I can't make any money ranching," says George, "but I raise horses because I love it."

"I love to rope," confesses George, seen here getting his lariat around a calf in 1999.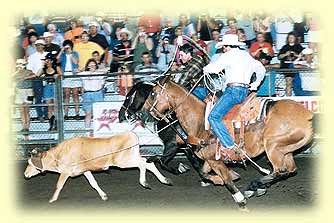 George's love of ranching has been passed on to George Jr. They spend sun drenched days and starry nights side by side running the ranch. "It's fun doing everything I can with my son," declares proud papa George.

And, like father, like son  George Jr. is an accomplished team roper, excelling first on the high school rodeo circuit and now as a member of the Texas A&M University rodeo team. George and Norma, his wife of 30 years, are fixtures at George Jr.'s team roping events. "I just love watching him," gushes George. "He's very good."

The Strait riding and roping talents are natural. George grew up in Pearsall, Texas, with ranching in his blood. Long before he thought about singing a note, his heart was set on being a rancher like his dad, John Strait, who taught George the finer points of horsemanship.

"About the time most young men were playing Little League baseball," recalls George, "I was learning to rope and ride."

George looked forward to spending weekends on the family ranch in nearby Big Wells. As he grew into a young man, he embraced the idea of being a full-time rancher. Even as he put his high-flying country music dream in motion playing area honky-tonks, he kept his feet on the ground by managing a cattle ranch from sunrise to sunset. And he studied agricultural science at Southwest Texas State University in San Marcos  the perfect degree for a successful rancher.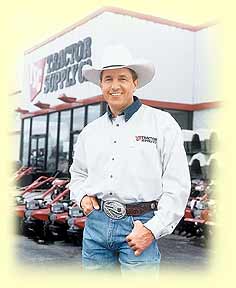 George's real-life rancher image has made him the perfect pitchman for advertisers, including Wranglers and Tractor Supply Company. And George's "like a rock" dependability as artist and rancher has matched seamlessly with General Motors' Chevy Truck Division for close to a decade. Chevy considers George the most dependable, longest lasting country music performer. George has appeared in numerous ads for Chevy Trucks, and Chevy, in turn, sponsored his George Strait Country Music Festival stadium tours.

With his career, family life, ranching and team roping hitting on all cylinders, George is proof that there truly is a difference in living and living well, as his latest No. 1 proclaims.

Tractor Supply Company hired George to tout their product line


"I'm real fortunate right now," he admits with a satisfied smile, "to have the time to do all the things I really want to do  and enjoy myself."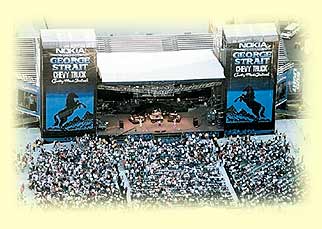 This page was last updated: November 4, 2007
This excellent article was coped and used with  permission of author.